In this page we are going to discuss the creation of a wearable, step by step.
[08/26/2020] Wearable minting is currently off due to gaz fees being too high.
To create a vox model, you need MagicaVoxel. Download the latest version and install the software.
Open the software and one of the first thing you want to do is make sure your canvas is resized to 32x32x32. To do so, select 40 40 40 in the field at the top of the canvas, type 32 and press Enter.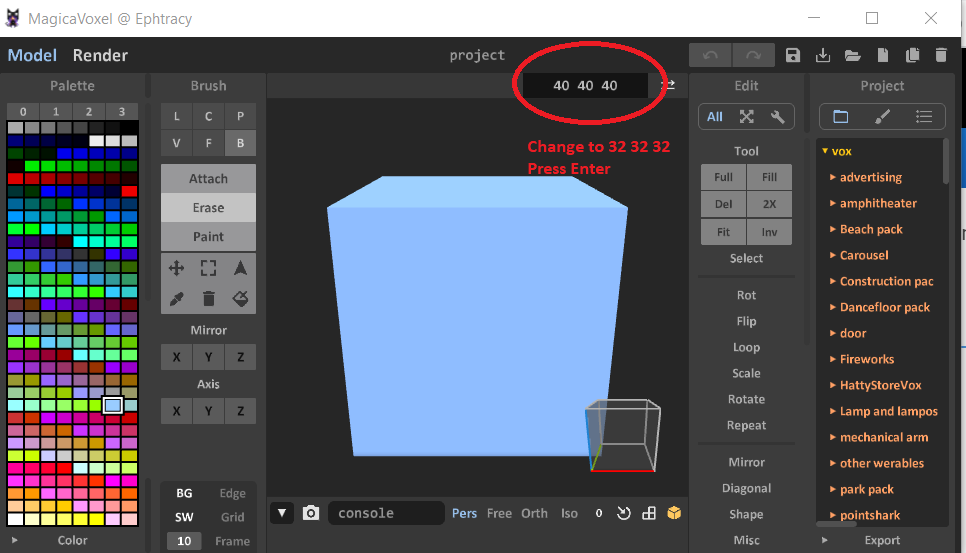 You are now ready to use Magica and create your own hat, snowboard, tshirt and so on...
When making your item, the size and rotation is not really important since owners will be able to rescale and rotate the wearable when they want to wear it.
Once you've made your wearable, save it.
Make sure the canvas is on 32x32x32!
Your item is created and it is now time to upload it for review.
On the website, go to Wearables>upload and you will find the form to upload your item.
There you can enter
The name of your creation
A description of what your wearable is or its purpose.
The number of issues that will be created. The supply of that wearable. (see rarity below)
Upload your .vox file and then check the checkbox saying that you assert that this is your own creation.
Once submitted, your wearable will be added to the queue for review and minting.
Vox models that are considered NSFW or that are too similar to real-world weapons will not be minted.
Furthermore, know that the review process can take several days depending on the gaz fees.
The number of issues of your wearable will dictate its rarity.
Greater or equal to 1000 issues = Common
Greater or equal to 100 issues and smaller than 1000 = Rare
Greater or equal to 10 issues and smaller than 100 = Epic
Greater or equal to 1 issues and smaller than 10 = Legendary
You can have a look at the queue at admin/wearables.