In this page we are going to discuss the creation of a wearable, step by step.
To create a vox model, you need MagicaVoxel. Download the latest version and install the software.
Open the software and one of the first thing you want to do is make sure your canvas is resized to 32x32x32. To do so, select 40 40 40 in the field at the top of the canvas, type 32 and press Enter.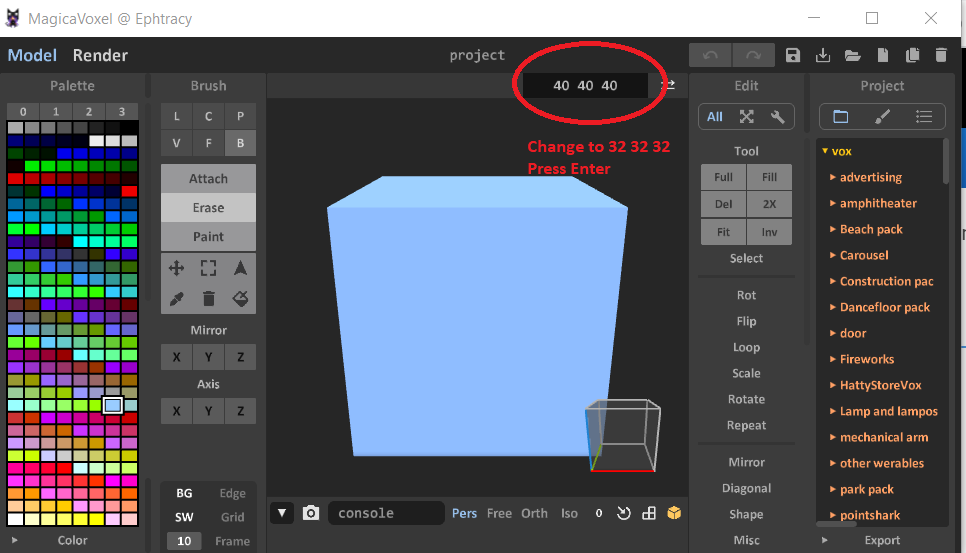 You are now ready to use Magica and create your own hat, snowboard, tshirt and so on...
When making your item, the size and rotation is not really important since owners will be able to rescale and rotate the wearable when they want to wear it.
Once you've made your wearable, save it.
Make sure the canvas is on 32x32x32!
Your item is created and it is now time to upload it for review.
As of march 2021, there are now 2 way of making a collectible:
A. Make a collection and mint your own collectible [Not available yet]
B. Submit your collectible to be minted by a collection.
The pros of chosing option B instead of A is that you let someone else manage the collection and that person has to pay the minting fees. However, the collection owner is also eligible for royalty fees from opensea transactions, be sure to check it out on their Opensea store page!
¶ A. Make a collection and mint your own collectible.
This is not yet available to the public.
Some collections are 'unlocked', that is, they allow the public to submit collectibles to them and then they will review and mint them for you.
On the website, go to Collections and select any collections with the '👐' icon. The icon is an indicator for collections that accepts public submissions.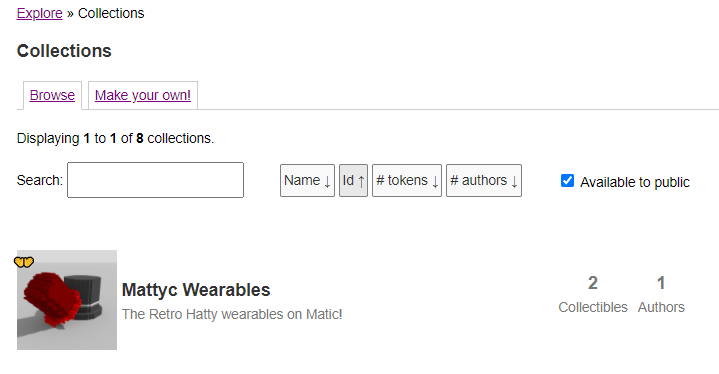 Select the collection you want (watch for chain types). And click Submit in that collection's menu.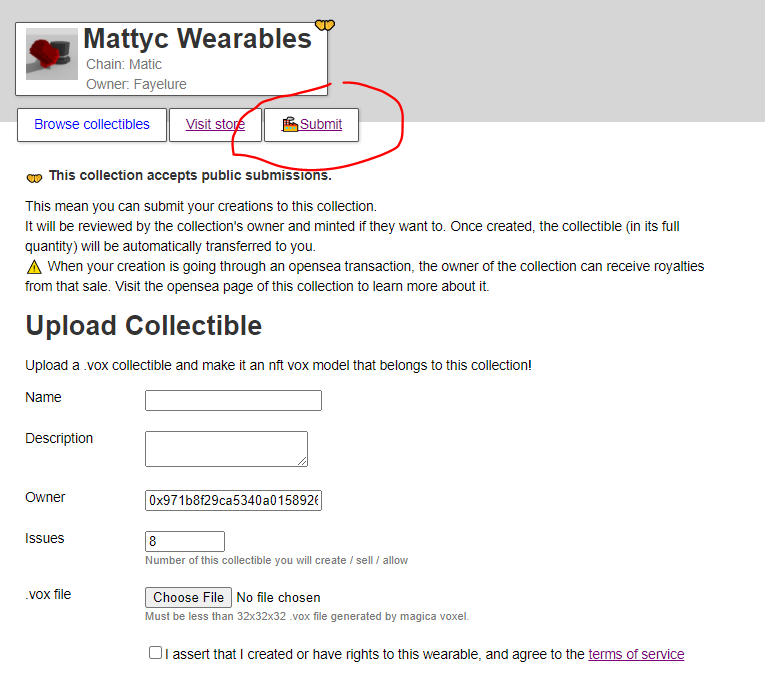 There you can enter
The name of your creation
A description of what your collectible is or its purpose.
The number of issues that will be created. The supply of that collectible. (see rarity below)
Upload your .vox file and then check the checkbox saying that you assert that this is your own creation.

You will be prompt again to ask you if you understand and agree to the terms of service.

Once submitted, your wearable will be added to the queue for review by the collection owner.
Vox models that are considered NSFW or that are too similar to real-world weapons will not be minted and it is the responsability of the owner to make sure of it.
Be aware that if the collection owner does not respect the cryptovoxels terms of services, the collection may be suppressed.
Furthermore, know that the review process is completely out of control of the CV team.
The number of issues of your wearable will dictate its rarity.
Greater or equal to 1000 issues = Common
Greater or equal to 100 issues and smaller than 1000 = Rare
Greater or equal to 10 issues and smaller than 100 = Epic
Greater or equal to 1 issues and smaller than 10 = Legendary
The queue is visible at the bottom of the submission page:
Just hit refresh to see the progress of your wearables